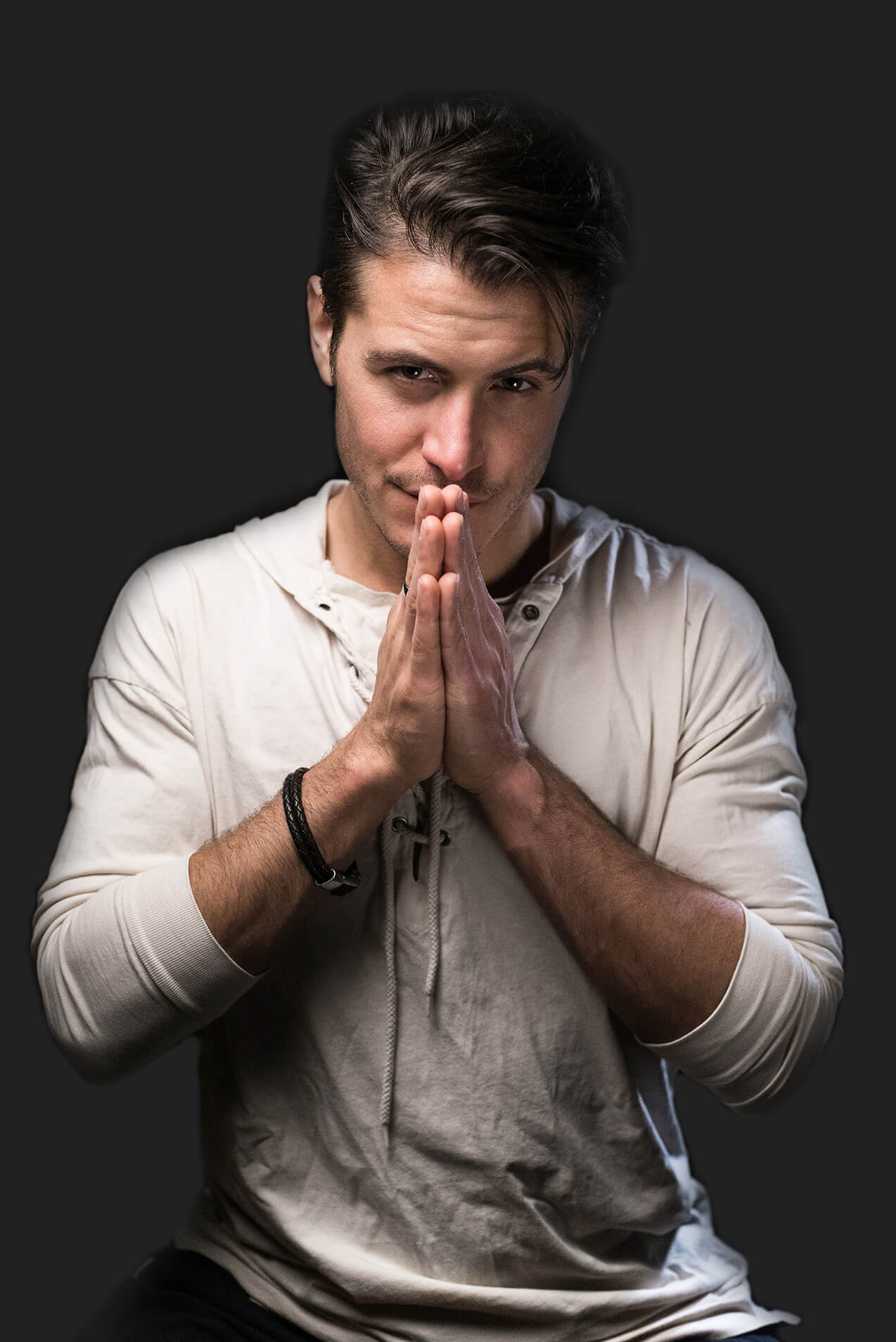 The Doors To The (Inner Circle) Are Now…
CLOSED
Dates for summer session will be released in Spring.
To join the VIP list for enrollment, just click the button below, enter in your details and I'll be in touch with you within 24 hours. 
I'm inviting you to join me…
You've tried dieting long enough and you've spent more than enough time…
Wasting your money on calorie-restrictive diet plans, personal trainers and weight loss paraphernalia.

Wasting your energy and patience counting calories, measuring foods, and counting points.
Mindlessly exhausting yourself out at the gym for absolutely no good reason.
Feeling confused, hopeless and lost, scoring the internet for the latest quick-fix solution.

 
And you know (all too well) that feeling when…
You lose some weight, feel encouraged, and then gain it back after a few "bad days."

You're bored to death by your food choices, you can't stomach the idea of enduring "this stupid diet" any longer.
You're starving and spend the entire day battling yourself, fantasizing about food.
You ultimately cave, give into temptation, and eat away your feelings until you're numb.
You're alone, like you'll always have to bear this burden, and you'll always have to do this alone.
11 Questions You Should Ask Yourself
(If You've Ever Gone On A Diet Before…)
1. How many times have I tried to lose 10 pounds in 1 month, or 20 in 2?

2.

Are my dieting attempts a race against the clock, rather than attempts to learn something?

3. Do I think I have to "earn my calories" when trying to lose weight?

4.

If I make a mistake and eat something off plan, do I believe the "day is ruined" and sabotage myself even further?

5. Do I believe that the only way to succeed is to be absolutely perfect?

6.

Do I believe that to be successful, I have to restrict my choices to foods I don't enjoy, or weight-loss plans that allow for little variation?

7. Do I believe that eating low-fat/low-calorie is the best (or only) way to lose weight?

8.

Do I come home at night and look to food for relief, either from stress or boredom or loneliness?

9. When I'm stressed, do I impulsively reach for sugar?

10.

When I go "off plan," can I stop myself from binging…or is it more like permission to binge?  

11. Does food preoccupy my thoughts throughout most of the day, and do I look at the clock waiting for the next hour that feels like "long enough" to eat again?  
If you answered 'yes' to even just one of the questions above, then it's time for a change.
Introducing EvolutionEat…
I'm going to show you why losing weight and mastering your diet is a dynamic skill that can be cultivated and developed quite easily with basic training, no matter where you're starting from.
But it requires you to make a choice that you're ready for a change…not only that you are ready, but you are willing to go where you must. You must go deep inside if you expect anything to change on the outside.
It's entirely possible to:   
lose weight while eating high-fat, delicious, whole foods
repair your metabolism and never go hungry
heal chronic inflammation with your diet
reverse aging symptoms with nutrition and easy movement
overcome sugar addiction and food fixation with strategic training
stop emotional eating & compulsive eating with simple, innovative habits
become more mindful of your choices
quiet negative beliefs and realize your potential
build a foundation of simple, healthy habits that keep you connected to your goals no matter what
follow through with your intentions every day, even when you don't feel like it
become the envy of your friends for your self-discipline
feel amazing, look amazing, and OWN THIS
heal your relationship with food and dieting, once and for all
surprise yourself how simple it is to eat clean and healthy
do this forever 
"Working with you has been an absolute pleasure.  The overall key to my success has been the support and encouragement that  you have given me.  This positive influence in my life has not only changed my diet, but my relationships, my determination, my confidence in setting and reaching goals, my realization that believing in others and giving them support, and genuine encouragement is so powerful.  I feel like I have been more of a positive influence on my children, husband and all of those who I come in contact with.  And most of all, the peace that I feel with myself, my body, and my relationship with food is something that I thought I would never have.  I'm definitely not perfect, but I'm ok with that.  And this is huge!!  Thank you Daniel."
Jill, 44, Salt Lake City
I'm inviting you to join my private (Inner Circle)  
I want to help you change your life once and for all.
The EvolutionEat (Inner Circle) is the only online membership community, education, and coaching program wrapped in one comprehensive experience. It's a 360 degree support system to help you master your diet, heal your relationship with food, and build a new lifestyle from the ground up.
Members of the (Inner Circle) get…
Me, Daniel: a world class motivator, lifestyle designer and dietary strategist at your fingertips, accessible by email and weekly masterclasses
My expertise, guidance and support. I am exceptionally good at high performance coaching, as it pertains to diet and lifestyle
13 live masterclasses, once per week for 13 weeks, in which I teach you the fundamentals of skill acquisition, mindset training, habit formation, nutrition, diet, exercise, overcoming dependencies, strategy, mastery, and healthy lifestyle beyond your food choices
Unlimited, lifetime access to the live recordings of ALL master classes. (So that you can watch if you miss a lesson, or if you need some inspiration a few years down the line.)
Monthly "hot seat" 1:1 coaching opportunities with Daniel, where I work with you directly in front of the online classroom to address specific needs
Weekly homework & action steps to help you progress forward one step at a time, each and every week
Downloadable PDFs, handouts, reading suggestions, and resources to supplement your learning
Recommended meal plans & food shopping lists.
Coaching: direct access to Daniel through email
Accountability: you'll participate in my "secret strategy" with your community members to train new habits and make them stick for good
Close-knit community of generous, like-minded awesome individuals who love to give even more than they love to request help
Extremely discounted rolling membership access to remain in the (Inner Circle) once the 13 live lessons are complete. (The program does not end after 13 weeks… you'll learn more about this when you get there!)
Behind-the-scenes access to my life: how I eat, how I train, how I remain focused, my crazy life experiments and the latest lifestyle hacks I'm working on before I share them with the public
An invitation to attend the first private EvolutionEat Live event in 2018
Discounts & preferred access to all future EvolutionEat programs and products
"Your approach is brilliant, intuitive, sensitive, emotionally connective, and powerfully motivating. I have also described you to friends as a magic wand that I can point toward any area of my life and it will magically begin to blossom under the sunshine of our focus. But seriously. Our work has been intensive and life changing."
Elizabeth, 36, St. Louis
Experience the (Inner Circle)….
To master your diet, here's the full 360-degree learning experience:
Part I: Mastery
Week 1: EvolutionEat: A Course on Mastering Yourself
Week 2: Mastery and Dieting: Why "Dieting" is the Reason You've Failed Until Now
Part II: Living Healthily is a Skill You Can Train
Week 3: Mindset: How to Learn All Over Again & Think Your Way Toward Success
We're going to learn what it means to adopt a long-term approach to living healthily by recalibrating the way you think about learning in general—adopting a Growth Mindset and an attitude of "Good Enough." Get ready to turn your world upside down.
Week 4: Habits: How to Rewire Yourself and Crave Making Healthy Choices
We're going to carve out healthy patterns and routines that you can rely upon day after day, meal by meal. We're going to fine-tune these habits, which will effectively remove willpower and emotions from your inner dialogue, limit decision-making fatigue, and anchor your day with success markers.
Week 5: Emotions: How to Heal Your Relationship with Food and Stop Emotional Eating
We're going to deconstruct why you respond the way you do to certain foods and triggers, getting to the very bottom of your dependencies, fixations, and, in certain cases, addictions, and why you haven't been able to get this diet thing right…yet.
Part III: Food and Body
Week 6: Nutrition 101: How to Eat Real Foods and Evolve into a Fat Burning Machine
What we're eating. Nutritionally, we're going to simplify what's important by looking back at our evolutionary ancestors. Our genes want us to be lean and fit. It's actually quite easy as long as we eat from the long list of natural foods you can find in nature and avoid, in large, grain-laden, sugary, processed and otherwise unnatural foods.
Week 7: Diet: How to Lose Weight Without Trying and Overcome Your Sugar Addiction
Why we're eating it. Physiologically, we're going to learn how to eat to repair our metabolism and overcome lifelong sugar addictions.
Part IV: Strategy and Goal-Setting
Week 8: Strategy: How to Become the Envy of Others for Your Self-Discipline   
We'll learn how to circumvent willpower, prioritize what to do in any situation, and build a routine of consistency that you can rely upon day after day, no matter what's going on or how you're feeling.
Week 9: Goal-Setting: How to Guarantee Results Using Slight Edge Principles   
I'll unveil my entirely new, revolutionary system for setting goals that will absolutely change your life. You will lose weight without ever thinking of losing weight and accelerate up a learning curve toward your dream body and evolved lifestyle.      
Part V: Training (Meal-by-Meal Specificity)
Week 10: Breakfast and Lunch: Identifying Your Keystone Habit
We'll identify and train your Keystone Habit, the most important lifestyle decision to address because it starts a process that, over time, transforms the way you do everything. It's the lead domino that ripples out into the rest of your life.
Week 11: Dinner and Weekends: Navigating the Toughest Part of the Day (& Week)
We'll learn in-depth strategies to overcome emotional eating and intense cravings, including step-by-step breakdowns of what to do when you feel your weakest.
Part VI: Awareness
Week 12: Awareness: How to Overcome Cravings, Mistakes and Total Meltdowns in Real-Time
We're going to apply all we know into real-life settings and situations, learning how to cultivate an attitude of resiliency, what it means to bounce back, and how to quiet your negative beliefs. We're going to learn how to plan for imperfection, adopt a long-term approach, and use mistakes to our advantage.
Week 13: Mindfulness: How to Overcome Major Challenges with the First 3 Months
Change is hard. You'll encounter some major challenges—bodily, mentally, socially, and emotionally—during the first three months of your evolution. I'll teach you how to deal with all of them. The resistance is always the loudest before something incredible happens.
Class Structure

All classes are online and will be broadcast live via Webinar software, so that you can watch and participate from the comfort of your home.
Classes will last about 90 minutes, including opportunity for Q&A and 1:1 live coaching moments with members of your class.
Each week I will give homework assignments, action steps, and make suggested reading recommendations to supplement your learning.
You'll be asked to respond to specific prompts and email me your answers. I'll provide feedback and coaching along the way to make sure you're fully supported.
You'll be expected to participate with your community members in the private Facebook group, and you'll be expected to follow instructions regarding my world-class accountability protocol (you'll have to wait to find out what it is!).
Class Times
Classes will be held on Sundays. Time TBD.

All classes will be recorded so that you won't miss a beat even if you can't make it to class that week. As a member of my (Inner Circle) you'll have lifetime access to all of the lessons and materials.
"There is no dieting or exercise program that will get on the phone with you, help map out your week, teach you that there is time for your health, and help you prove to yourself that you can do this no matter all the bs excuses you've come up with in the past. Daniel has taught me that anyone can become the version of themselves they aspire to be through simple routine that, compounding over time, creates wide sweeping change. This is true of diet, it's true of wealth building, relationship building—it's a fundamental tool for all of life that goes well beyond the scope of food. Dan, you've changed my life and I so appreciate you."
A Note From Daniel
Hey friend,
Here's the only thing that matters. Success isn't impossible, it just takes practice. Learning and mastering any new skill requires deliberate practice, and that's what I'm here to help you do: train the habit of making healthy decisions, day after day.
The process toward mastering yourself requires relentless effort, deep focus, and enthusiastic concentration. There's a big difference between burning yourself out on impossibly restrictive diets and concentrating deeply on something that you care about.
Learning new habits, new routines, and cultivating a new mindset—in other words, changing your life—requires deep work. You must go deep to get something out of it. Otherwise, you're not doing enough. To make this diet thing "stick" for the rest of your life, we can't remain at surface level; this whole thing can't just be about how you look or how much you weigh.
Are you going to let superficial forces dictate your commitment and define your entire sense of self – or are you going to fall in love with the process of self-mastery, evolve your relationship with food, and learn to stay in control?  
By falling in love with the process, you will maintain a lifetime of success – just like the master pianist who loves to play for the sake of playing. Her accolades are the logical conclusion to a life spent in deep practice, which is only possible because she loves to practice.
The process of going deep and getting uncomfortable will, by definition, fundamentally change you and ripple out into the rest of your life. When you start building yourself up from the core, you touch on everything—even if you thought it was just about the food.
That sort of mastery is what I'm interested in.    
I hope you'll join me inside the (Inner Circle) before spots fill up.  
Hear from some of our members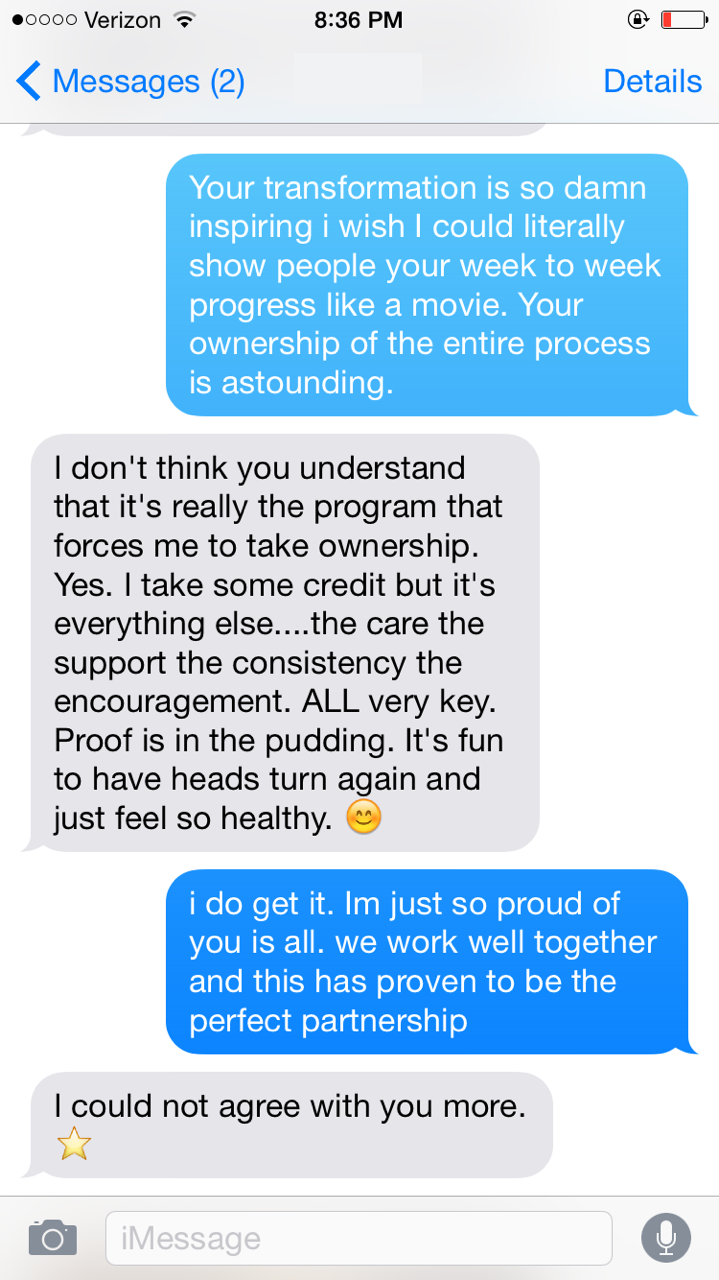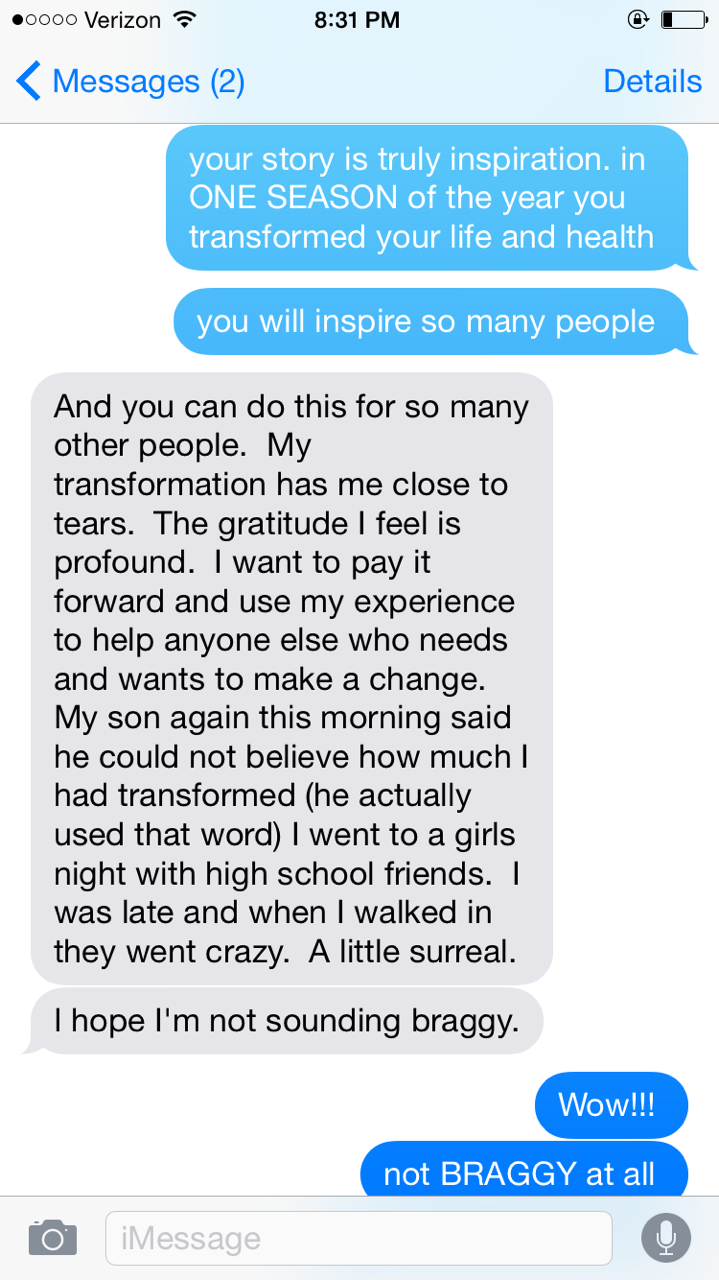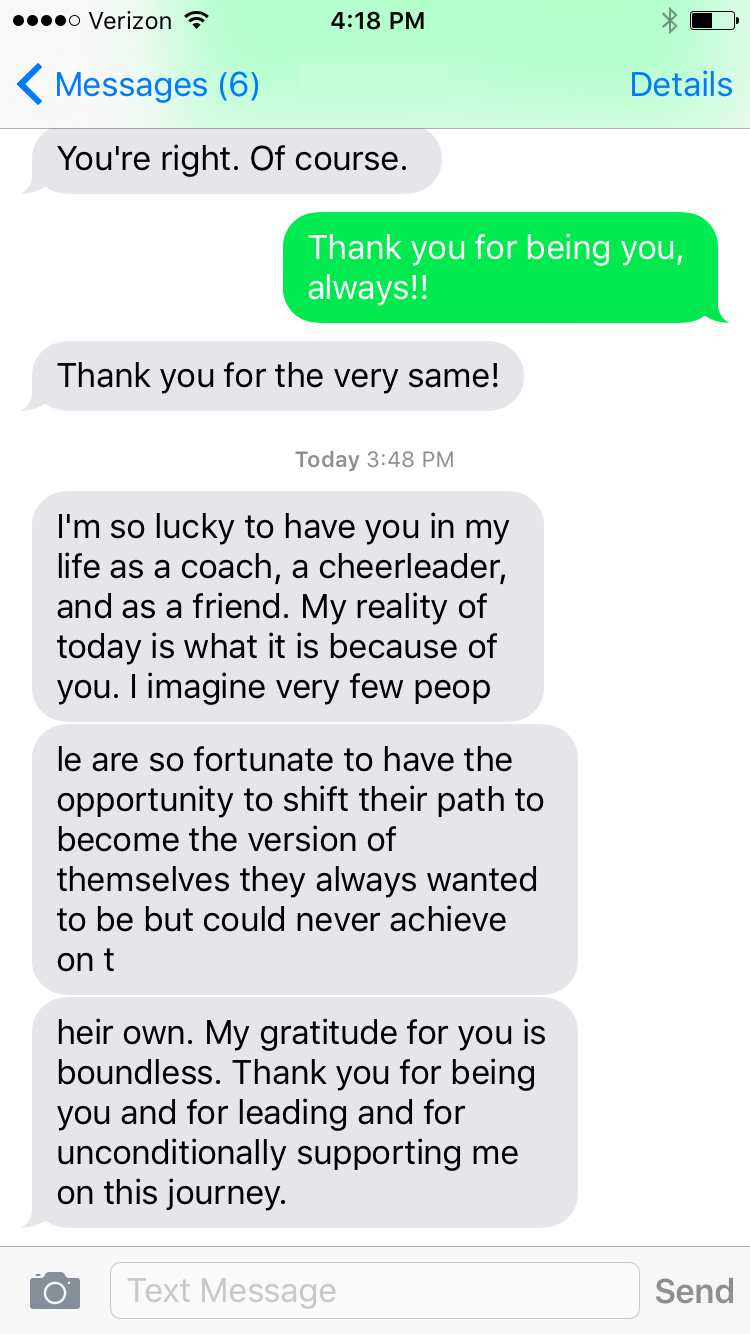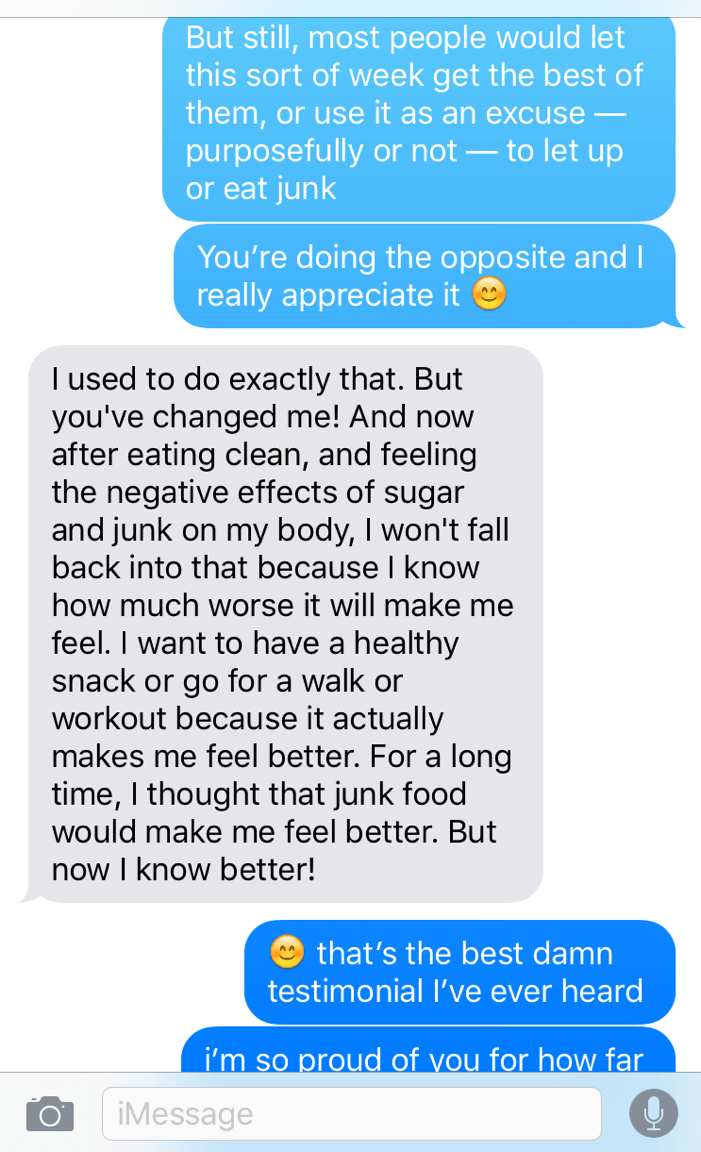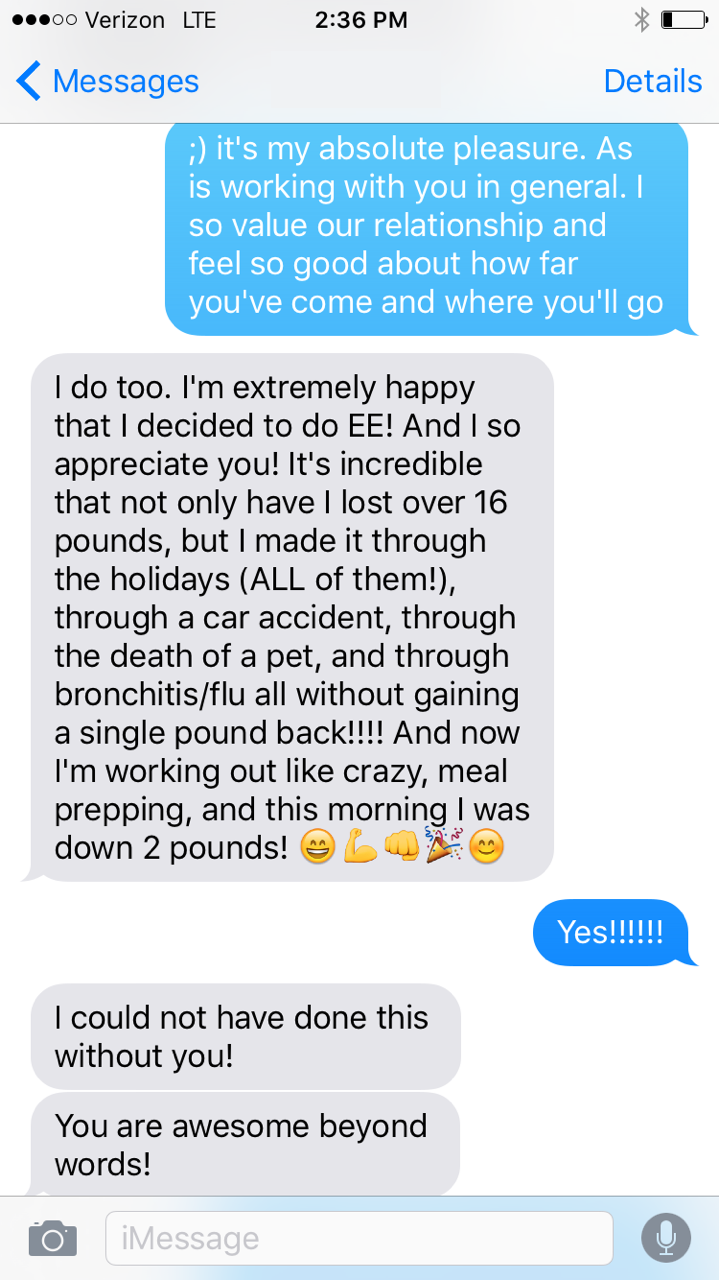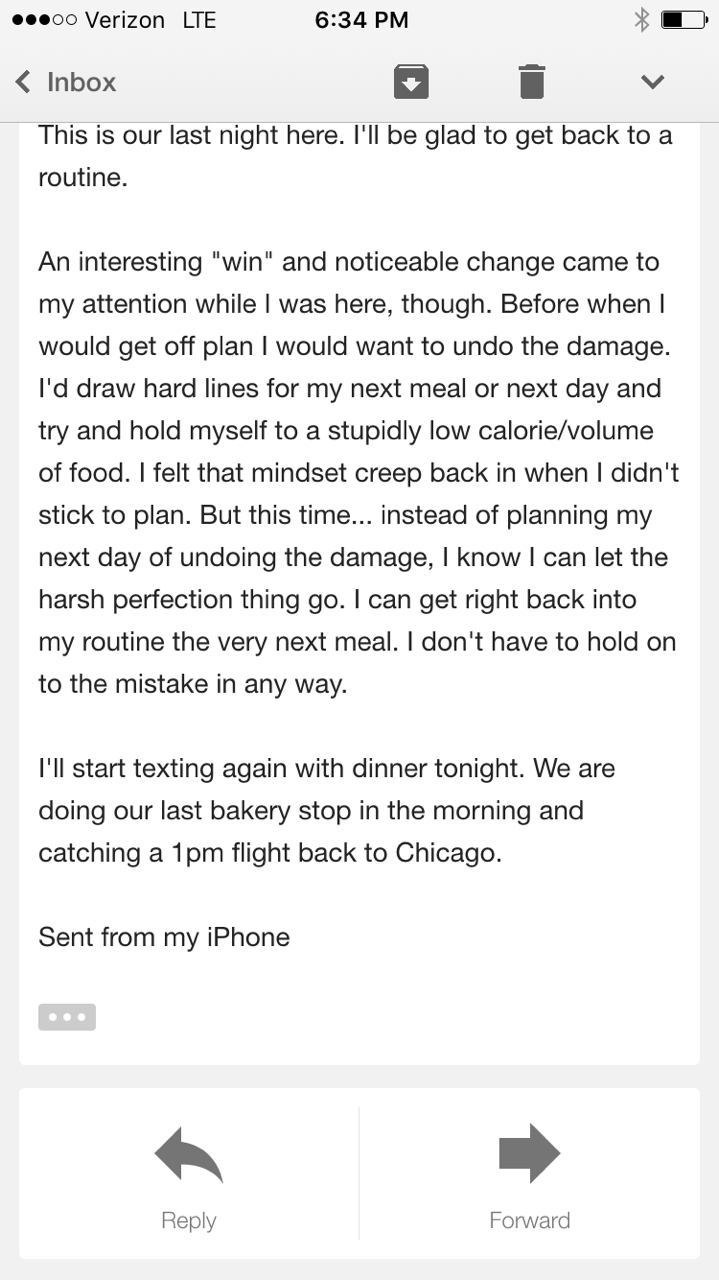 30-Day Money Back Guarantee
For whatever reason, if you're unhappy with your purchase, you can get your money back for up to 30 days after purchasing, or until class officially begins. No questions asked.
Because if you don't take action to change your life, your life won't change.
Join over hundreds of clients already raving about EvolutionEat.