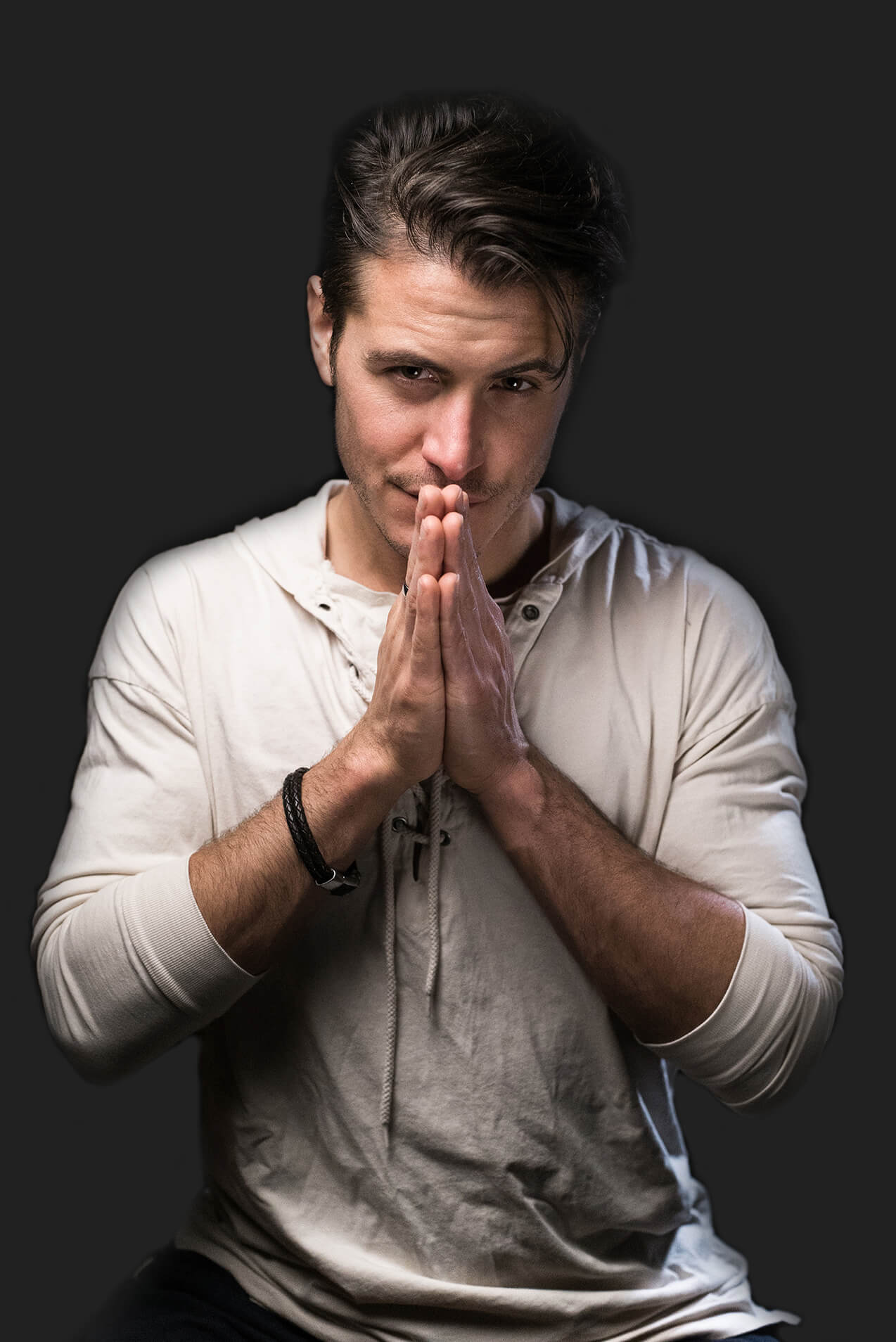 MASTERY COACHING
with Daniel Thomas
This is the place to come when you are ready to really begin transforming your life.
Our work together will be intensive and immersive – prepare for deep, one-on-one coaching that uncovers your hidden blocks, obliterates your greatest challenges, and gives you the tools you need to master your diet and create the life of your dreams.
Are you ready to be your best self?
Mastery Coaching is a learning experience unlike any you've had before.
Influenced by the apprenticeship model under which all the great masters throughout history were trained, you and I work together every single day and form a partnership to create the life of your dreams — starting with health, diet and lifestyle, and ending with wherever the work takes us. I call this "immersion learning" because you immerse yourself in a world of transformation. It's designed to create change. It's designed for growth of body, mind and awareness.
The process of mastering your diet goes way beyond your diet itself. Your diet is just one piece of the puzzle of living healthily.
The food you eat is important, of course, but mastering your diet is really about everything else: your mindset, your attitude toward learning, your willingness to sacrifice immediate results for long-term success, your motivation, your planning, your preparation, and most importantly your habits — the way you carry yourself in the world, the automatic choices you make that require little to no thought.
Most people know what is and isn't healthy. You don't need some guy on the internet to tell you that.
You don't need another diet book to tell you what to eat. Yes, there are nuances, of course, and I have my own particular style – but being healthy isn't some great big secret. Accessing the right information is not the barrier to your success. It's because you aren't treating this experience as a long term process.
And that's the ultimate goal: mastering your diet once and for all.
I'm here to coach you to mastery. We do that by focusing on your food choices, and by following through with your intentions on a daily basis.
Concentrating on your eating habits is the perfect opportunity to master yourself, as you must eat multiple times per day, every single day. That's pretty awesome if you ask me.
After completing Mastery Coaching, you'll never have to worry about your diet or weight again.
So, do you want it that bad?
It Will Cost You More Than Money.
Mastery Coaching is not for everyone.
My coaching requires courage and commitment and, most importantly, transparency.
My clients and I work together for 3, 6 or 12 month commitments, and their lives absolutely transform.       
The experience costs thousands of dollars. But this opportunity will cost you more than money. You must be ready to invest your energy, your time and your commitment to creating something so powerful in your life that it will have a lasting impact. This is your "Forever Plan."
If you're willing to make it.   
When you are ready, we will talk.
And your life will transform.
You will evolve into the person you know you're capable of becoming, the person who already exists inside of you.
APPLICATION
To be considered for Mastery Coaching, you must fill out an application by clicking the link above. I only work with individuals who are serious and highly motivated to make dramatic changes in their lives, those who are ready to take full control of their food, diet and lifestyle choices. I also coach aspiring entrepreneurs and creative visionaries make the leap from the 9-5 and build businesses and/or art they love.
I am here to serve those committed to creating the absolute best version of themselves—whatever that means to you. My purpose is to co-create that vision alongside you. I am your partner in this transformative experience—someone you can rely upon and lean on, which runs deeper than a "coach."
After you complete the application, I will reach out through email or phone within 48 hours. We will then schedule a deep coaching call if I know you're the real deal. Sometimes I have a waiting list, and I will let you know immediately if that's the case and how long the wait.
If you're not the real deal, please don't waste both of our time.   
Important Details:     
The application takes about 10-15 minutes to complete.

There is a $50 application fee. I will apply it to your final investment if we are a good fit. If we mutually determine you're not a good fit, I'll refund you 100% immediately following the call.  

Scheduling a call does not guarantee admission. This has to be a perfect match; we're going to be spending A LOT of time communicating over the course of however many months, and it has to be a match.

If you miss our scheduled call without giving at least two (2) hours notice, you will forfeit the fee

and

your opportunity at being coached. I live and die by agreements.     

Our call will last 30-60 minutes depending on what you bring to the table and how deep you're willing to go. 
*PLEASE READ: It's critically important to note here that I am not a doctor, medical professional, registered dietitian or trained clinician of any kind, and I do not pretend to play one on the internet. I am not here to solve clinical problems, nor do I make any claims of being able to do so. My opinions and suggestions are merely ideas to consider. My services and programs are in no way substitutions for medical treatment or therapy; they're vehicles for education. It goes without saying, but if you have a serious condition, such as an eating disorder, and are considering working with me and/or purchasing a program, you should seek outside medical support to get the proper attention you need. Please read this Disclaimer. If you're struggling with a disorder beyond the scope of coaching, I've put together a list of resources and websites to help.
For more on my approach and to see client success

stories, keep reading…
Mastery Coaching works no matter your set of circumstances, or where you live in the world.
I have worked with clients on four continents who have achieved inspirational results, no matter how demanding their professions or responsibilities. I tend to work with highly in demand folks who have a tough time prioritizing themselves over their jobs, businesses, careers, or kids—people like executives, actors, business owners, entrepreneurs, creatives, therapists, doctors, pilots, writers, professors, fitness models, body building competitors, full-time moms, and anyone who dares to be awesome.  
You don't have to have an impressive job title to be committed to success. I also work with a lot of "normal" folks who bust ass like the rest of us, and who believe that investing in themselves and their health is the ultimate sign of "success."
I happen to agree with them.
See below to hear directly from some of my clients, people just like you.
Utterly Amazing Transformation Story
If you want to watch a personal account of someone who has experienced all of the benefits listed above, check out the video below. It's an interview I conducted with one of my most successful clients, Liz:  
Here's the amazing part: Liz is just one of the many dozens of people who have graduated from my Immersion Coaching program over the years. Liz, like so many other people who have gone through the program, has achieved results beyond what she and they thought were possible. They're now living in bodies they thought they could never have. They're now happy and secure in the knowledge that they invested in themselves.
I could not be prouder to have helped them, or to call them friends.
And now, I could not be prouder to announce that I want to help you.
My clients create powerful results.
Liz isn't the only person to succeed from my coaching. There's Terry Kerr, who also acknowledges that coaching was life changing. Click play to watch what Terry had to say:
Terry lost 30 pounds in nearly five months, while also increasing his exercise from 0 days per week to nearly every morning. In the meantime, he completely overcame his late night overeating patterns that battled for years. His family called him the "cookie monster" because it was the running joke forever. There was no solution to his late night overeating – until he started working with me.  
And let me be clear: Liz and Terry are total badasses. They each work over 70 hour weeks, are at the top of their fields, and have demanding social and family lives. It's not like they cleared out their schedules to be successful with their diets, lose weight, and build new habits.
Instead, through coaching, I helped them train habits that worked with their lives – not against them. That's where "dieting" always gets it wrong: you're trying to force something that doesn't fit.
That's not how I work, and that's PRECISELY why my clients are so successful.
Then there's a client like Molly…
 Who completely overcame her sugar addiction, and whose transformation of mind, body and career was one of the most inspiring stories I've had the chance to witness… 
Hear from Molly directly by clicking below:
I teach my clients how to achieve results beyond their wildest dreams because we take a realistic, sustainable, long term approach to weight loss and lifestyle change, whereby we train the fundamentals of mastery through daily accountability, transparency and self-empowerment.
The skills/tools/intuition you develop through coaching are lifelong lessons you will take with you forever. My clients are now living in bodies they thought they could never have. They're living lifestyles they never imagined possible. They're stepping into their power on a daily basis, happy and inspired and secure in the knowledge that they invested in themselves.
Want more proof? Hear from some more of my clients
Nathan, Pilot who lives across the world in Japan
Matt, Freelance Writer & Entrepreneur who lives in the UK
"Working with you has been an absolute pleasure.  The overall key to my success has been the support and encouragement that  you have given me.  This positive influence in my life has not only changed my diet, but my relationships, my determination, my confidence in setting and reaching goals, my realization that believing in others and giving them support, and genuine encouragement is so powerful.  I feel like I have been more of a positive influence on my children, husband and all of those who I come in contact with.  And most of all, the peace that I feel with myself, my body, and my relationship with food is something that I thought I would never have.  I'm definitely not perfect, but I'm ok with that.  And this is huge!!  Thank you Daniel."
Jill, 44, Salt Lake City
Want even more proof?
These are direct screenshots from some of my clients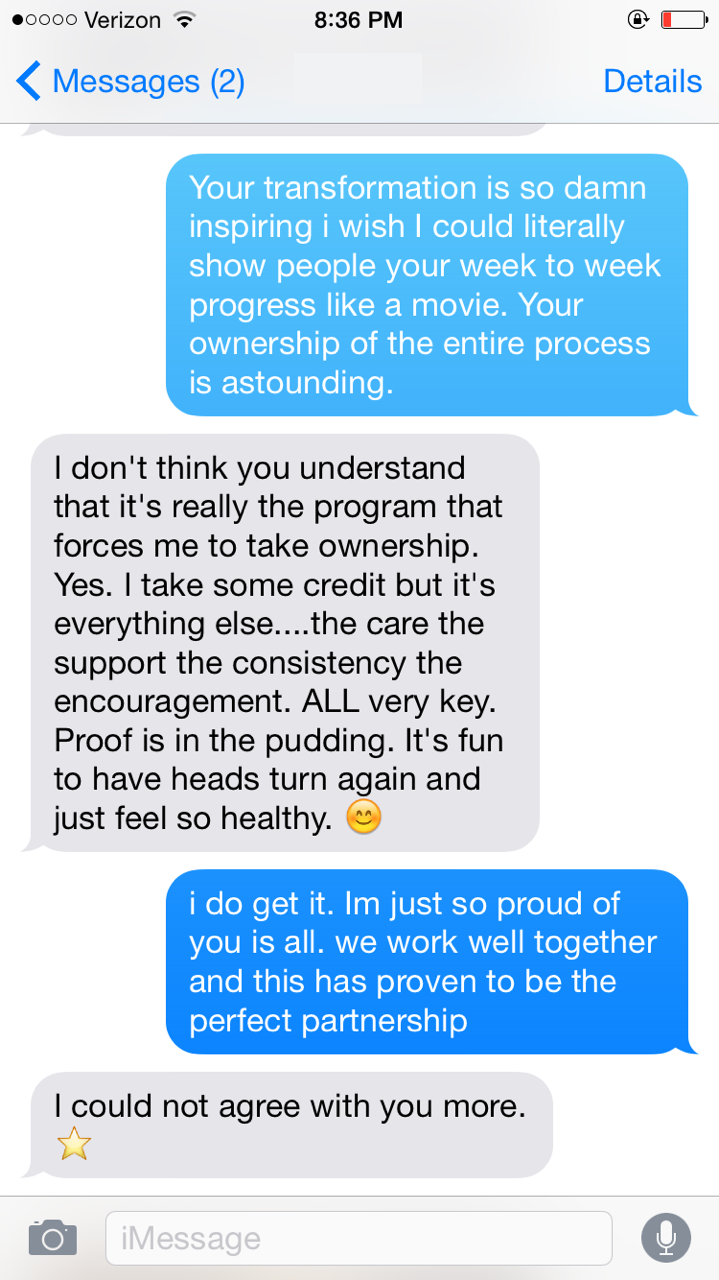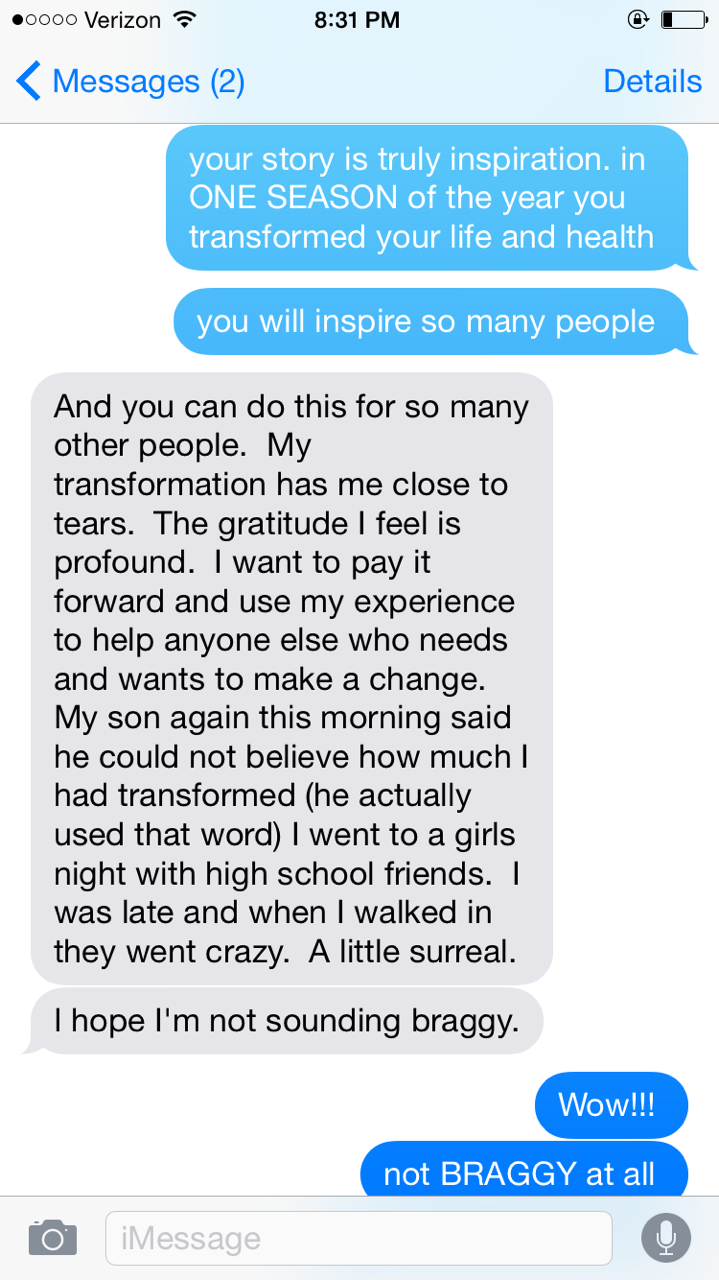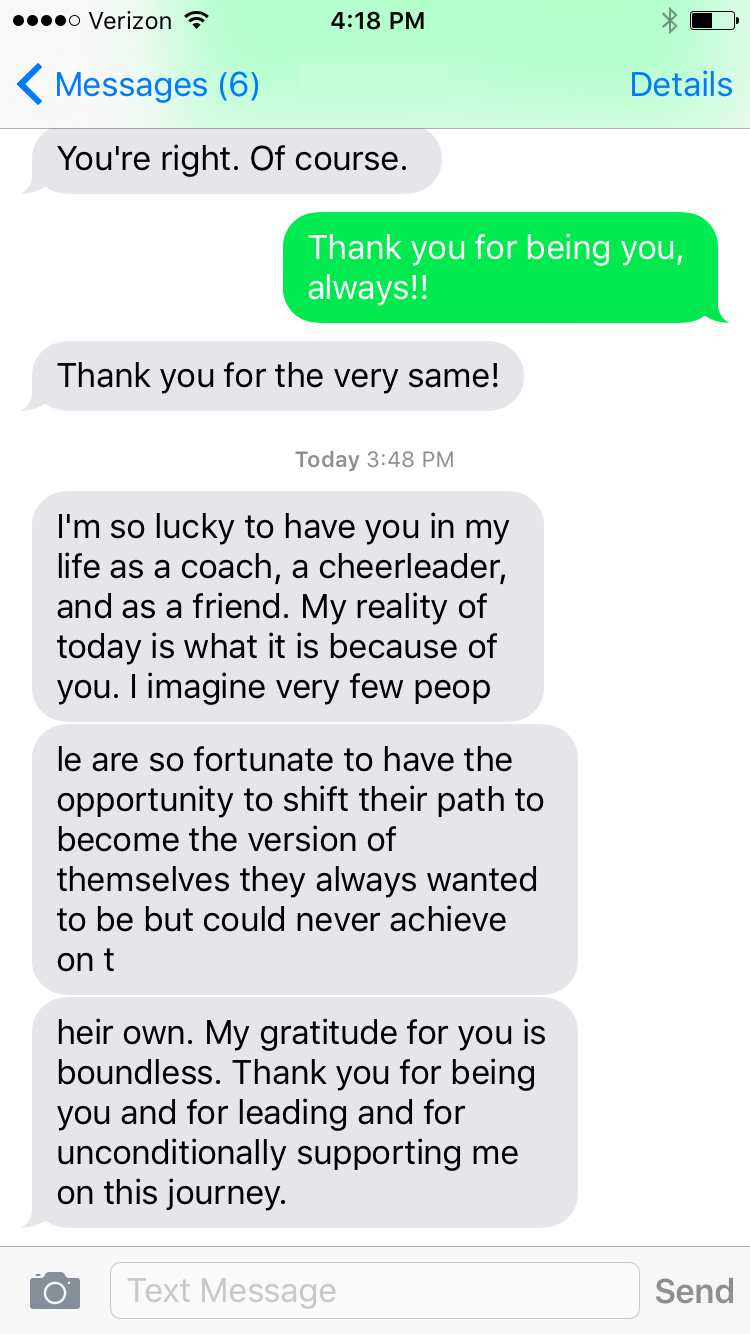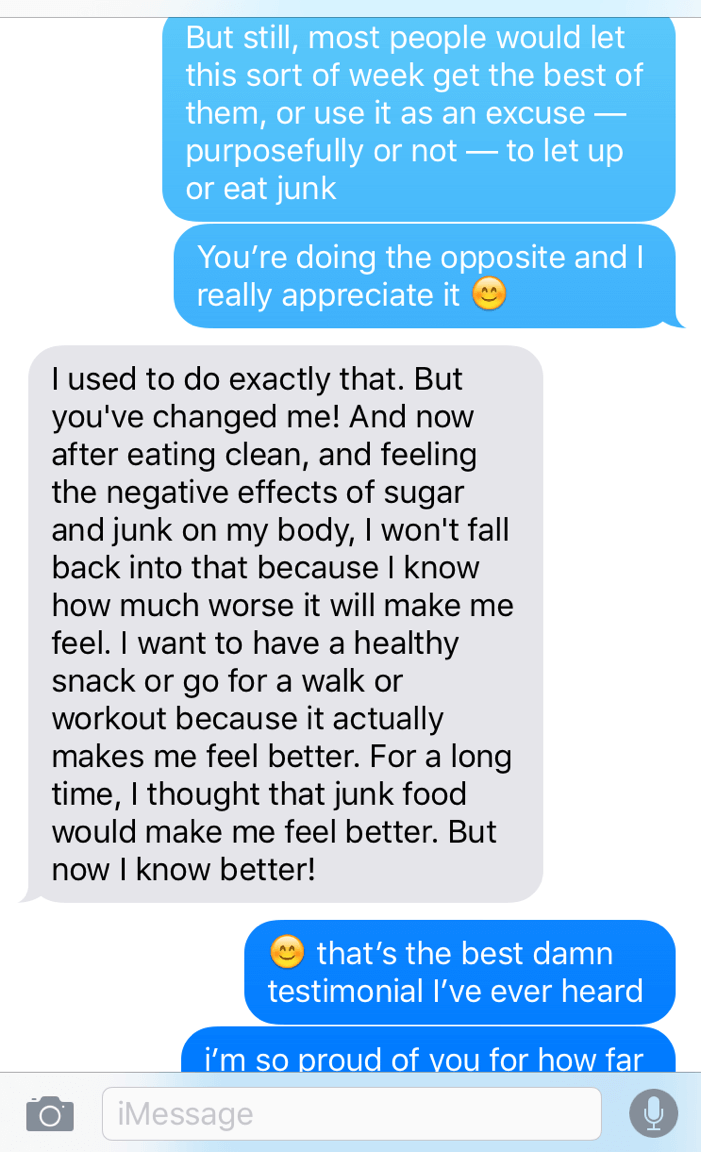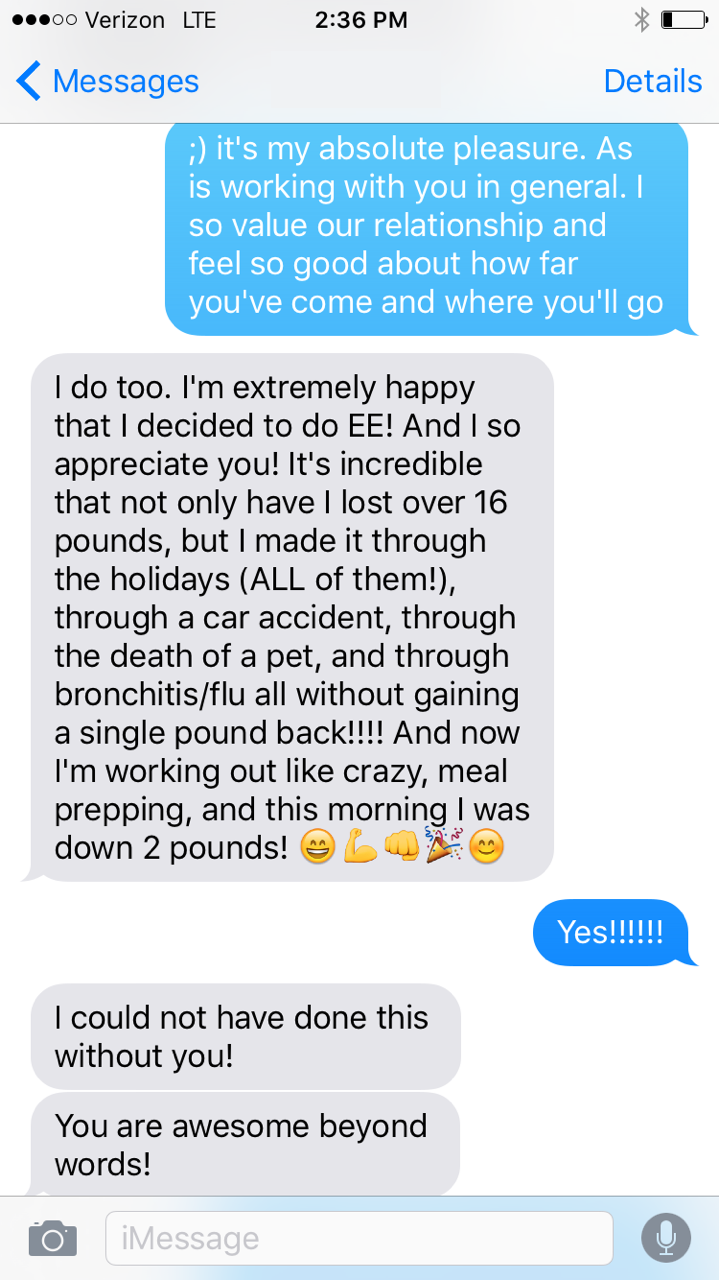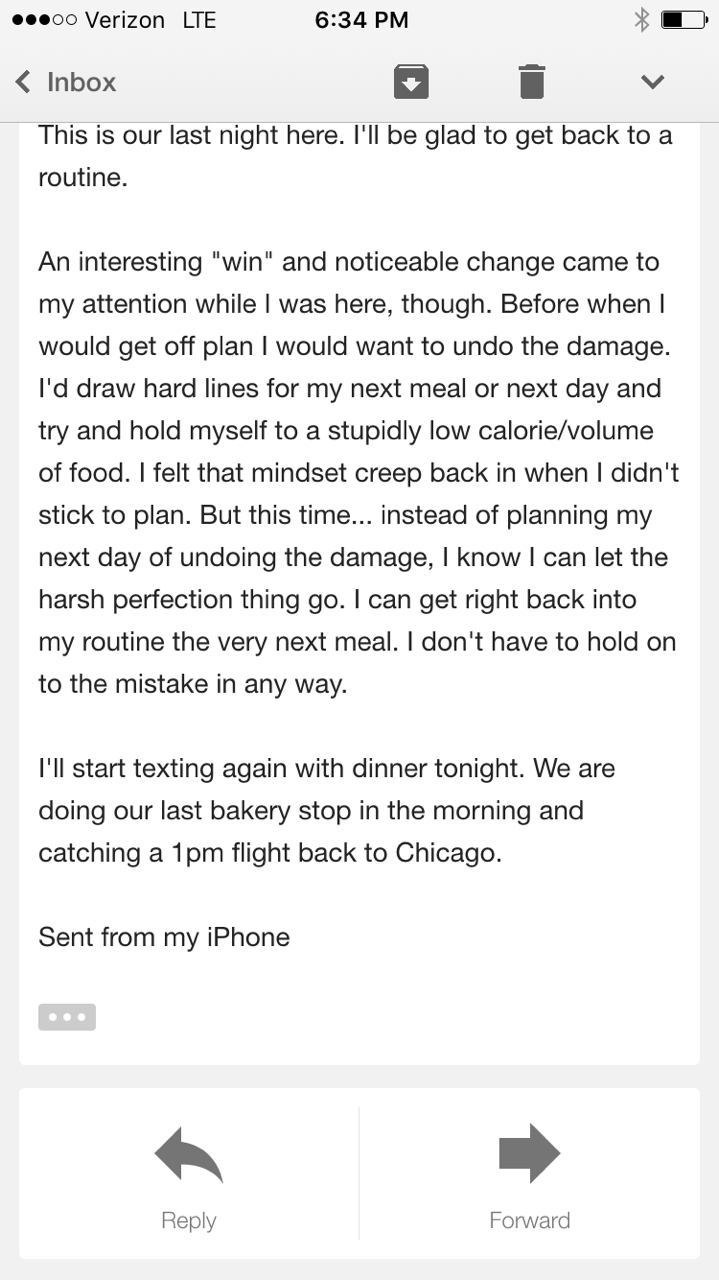 So tell me…
Are you finally ready to make a change?
Are you finally ready to commit to the long term?
Are you ready approach this process the right way, be patient, and learn?
Are you ready to create your dreams and master your diet once and for all?